Sixteen-year-old Jose Antonio Elena Rodriguez, a studious Mexican boy, dreamed of becoming a soldier to fight the violence that plagued his hometown of Nogales, Sonora. But Jose Antonio never lived out that dream.
On October 10th of last year, on a late night walk to meet his brother Diego, the boy was shot and killed. Not by thugs or narcos, but by the US Border Patrol. He was shot across an international boundary, a violation of treaties between the US and Mexico.
Jose Antonio was shot ten times according to a Mexican Medical Examiner's report obtained by Fusion's Investigative team. The first two fatal shots were to the boy's head and he was shot eight more times as he lay on the sidewalk.
US Customs and Border Protection (CBP) claimed they opened fire because people were throwing rocks from the Mexican side of border, one hitting their patrol dog. But there is no evidence that Jose Antonio was in fact throwing anything.
Fusion's Investigative team spoke to key witnesses who say Jose Antonio was walking slowly along the sidewalk when agents opened fire.
More than a year after the killing, Jose Antonio's family still does not know what happened that night: they don't even know the name of the agent or agents involved in the shooting.
Death from Across the Border

Read more from our series "Death from Across the Border," which explores how U.S. Border Patrol agents are firing across the border and killing Mexican civilians.
And Jose Antonio isn't the only one. In a statement to Fusion, an official from the CBP says that their agency has killed six Mexican nationals within the last three years by shooting from the United States into Mexico.
While the agency has never denied their role in the shootings, this marks the first time that the agency has actually admitted that their agents were responsible.
Click on the image to read the full autopsy report obtained by Fusion's Investigative Unit: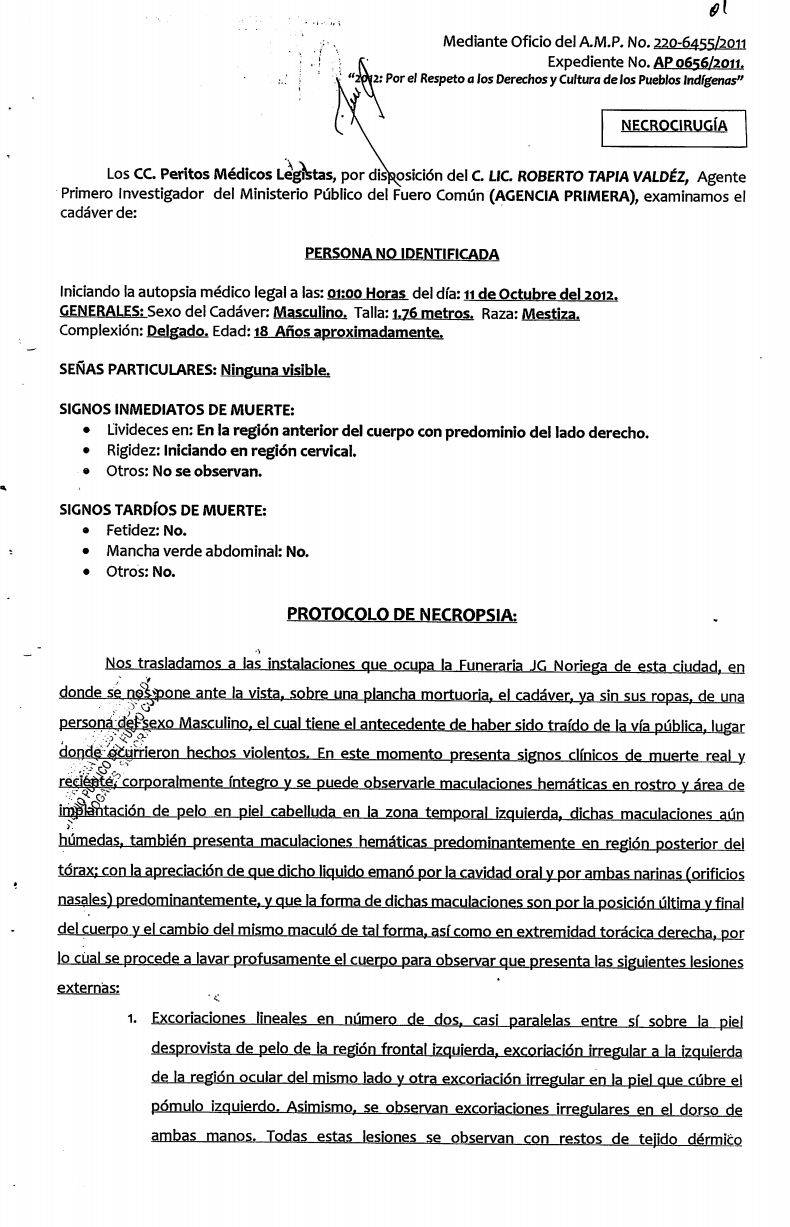 This story was reported in partnership with The Investigative Fund at The Nation Institute, now known as Type Investigations.
UPDATE MAY 12, 2018: Federal prosecutors announced that U.S. Border Patrol agent Lonnie Swartz will be tried for voluntary and involuntary manslaughter charges in the killing of 16-year-old Antonio Elena Rodriguez. The trial is scheduled to start Oct. 23. Read more here.
UPDATE, APRIL 24, 2018: An Arizona jury's deadlock on a lesser charge of manslaughter against U.S. Border Patrol agent Lonnie Swartz led U.S. District Judge Raner Collins to declare a mistrial, meaning Swartz could be retried for the death of Antonio Elena Rodriguez, the 16-year-old killed in a cross-border shooting in 2012. Swartz was found not guilty of second-degree murder by the same jury. Read more here.